Tulbaghia
'Dark Star'
Long flowering - from Spring through to late winter
Low water requirements
Easy to grow and low maintenance
Very hardy
Botanical name Tulbaghia Dark Star
Botanical name Tulbaghia Dark Star
Plant uses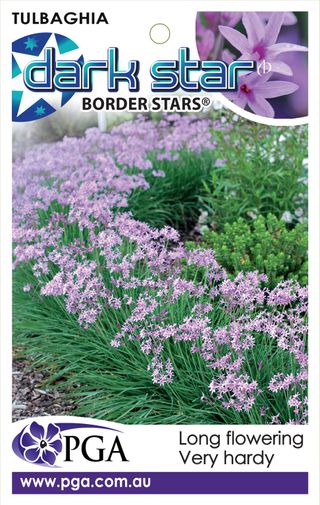 Informal edging or mass planting for difficult sites or erosion control
Container or mixed planter displays
Ornamental addition to cottage or herb gardens
Fast growing for new gardens
Rockeries or retaining walls
Country or cottage style gardens
General use for low maintenance areas
Cultural care
Grows well in most soil types but thrives in well drained soil containing plenty of compost.
Water requirements are low once established requiring only occasional deep watering during
extended periods of heat. Pruning generally not required although if you wish to rejuvenate an
older clump - shear back to ground level and fresh new foliage will appear in 6-8 weeks.
Apply a slow release fertiliser during early spring for optimum results.